Funding Size: 609 000 EUR (21 900 000 UAH)
Implementing partner: Mykolaiv City Council
Problem:
The troops of the Russian Federation continue to attack Ukrainian cities. Currently, Mykolaiv is located at a distance of 20 30 km from the front line, which allows Russian troops to shell the city on a daily basis. The city has only had 41 days free of shelling since the beginning of the war. During such attacks the city energy infrastructure has suffered from the significant destruction. The modular boiler houses will become a backup source of heat supply in the case of emergency situations during the heating season and will be able to provide heat to the social objects during the elimination of emergency situations which will make it possible to fully provide separate objects with heat or not to freeze the heating system.
Short description:
The project provides for the purchase and installation of 2 modular boiling facilities, with a capacity of 1 MW each. Installation of such modular boiling facilities as a backup source of heat supply will make it possible to ensure heat supply for the consumers (around 50 000 people) of the regional utility company "Mykolaivoblteploenerho" from a particular boiling facility for a short time in case of damage of the boiling facility until it is restored or the emergency is eliminated or will fully provide heat supply to a separate object, for example, a social sphere object, such as a hospital or a maternity hospital.
If you would like to know more about the projects and become a philanthropist partner contact us at contact@w4ua.com.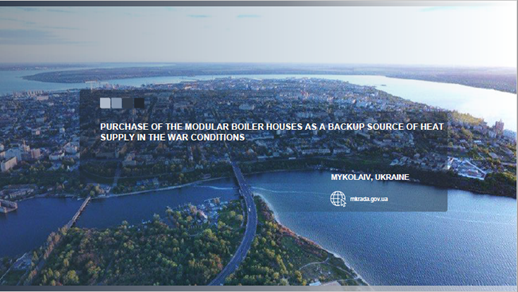 🔷𝗗𝗘𝗧𝗔𝗜𝗟𝗦 𝗙𝗢𝗥 𝗗𝗢𝗡𝗔𝗧𝗜𝗢𝗡𝗦 𝗜𝗡 𝗨𝗔𝗛🔷
ГО «ГРОМАДСЬКА СПІЛКА «МИКОЛАЇВСЬКИЙ ІТ – КЛАСТЕР»
Код ЄДРПОУ 41369661
54001, МИКОЛАЇВСЬКА ОБЛ., МІСТО МИКОЛАЇВ, ЦЕНТРАЛЬНИЙ РАЙОН, ВУЛИЦЯ ШЕВЧЕНКА, БУДИНОК 59-А, ОФІС 503
Р/р UA433052990000026004041706481 в ПАТ КБ «ПРИВАТБАНК»
МФО 305299
Керівник МЕЛЕНТЬЄВ АНТОН ВОЛОДИМИРОВИЧ
Призначення платежу: БЛАГОДІЙНА ДОПОМОГА
🔷𝗗𝗘𝗧𝗔𝗜𝗟𝗦 𝗙𝗢𝗥 𝗗𝗢𝗡𝗔𝗧𝗜𝗢𝗡𝗦 𝗜𝗡 𝗗𝗢𝗟𝗟𝗔𝗥𝗦🔷
Company name: NON-GOVERNMENTAL ORGANIZATION MYKOLAIV IT-CLUSTER (NGO MYKOLAIV IT-CLUSTER)
IBAN Code: UA423052990000026003011712484
Name of the bank: JSC СВ "PRIVATBANK", 1D HRUSHEVSKOHO STR., KYIV, 01001, UKRAINE
Bank SWIFT Code: PBANUA2X
Company address: UA 54001, Shevchenko Street 3/1, Nikolaev, Ukraine
Correspondent banks
▫️Account in the correspondent bank: 001-1-000080
SWIFT Code of the correspondent bank: CHASUS33
Correspondent bank: JP Morgan Chase Bank, New York, USA
▫️Account іn the correspondent bank: 890-0085-754
SWIFT Code of the correspondent bank: IRVT US 3N
Correspondent bank: The Bank of New York Mellon, New York, USA
🔷𝗗𝗘𝗧𝗔𝗜𝗟𝗦 𝗙𝗢𝗥 𝗗𝗢𝗡𝗔𝗧𝗜𝗢𝗡𝗦 𝗜𝗡 𝗘𝗨𝗥𝗢𝗦🔷
Company Name: МИКОЛАЇВСЬКИЙ IТ-КЛАСТЕР ГС
IBAN Code: UA733052990000026009041710427
Name of the bank: JSC CB "PRIVATBANK", 1D HRUSHEVSKOHO STR., KYIV, 01001, UKRAINE
Bank SWIFT Code: PBANUA2X
Company address: 54000, Миколаївська область, м. Миколаїв, вул. Шевченка. б.59А, кв.503
Correspondent banks:
▫️Account in the correspondent bank: 400886700401
SWIFT Code of the correspondent bank: COBADEFF
Correspondent bank: Commerzbank AG, Frankfurt am Main, Germany
▫️Account in the correspondent bank: 6231605145
SWIFT Code of the correspondent bank: CHASDEFX
Correspondent bank: J.P.MORGAN AG, FRANKFURT AM MAIN, GERMANY